Our goal is to offer you the highest quality fine art prints on canvas available.
We use artist grade canvas and pigmented inks to create the best heirloom quality art prints available.
Recent Additions
February, 2017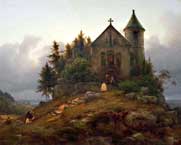 Forest Chapel
Carl Friedrich Lessing

Don't see what you want?
Questions?
Talk to a live person!
Tues-Fri. 10AM- 6PM
Sat 10AM- 5PM
678 424-8200
or e-mail any time!
Gift Shop